Inspiring and Guiding the Most Talented Students, Residents, and Fellows
We have strong ties to the Tufts University School of Medicine (TUSM) as many of our physicians are affiliated professors with TUSM.
As Clinical Professors, our surgeons actively educate and mentor orthopedic residents at all stages in their residency.
Our physicians regularly teach and work with Fellows from Harvard and Tufts.
We have a constant cohort of Tufts residents that research with us.
We also offer our research opportunities to medical students.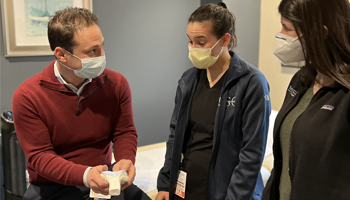 Pre-health mentoring is also a fundamental part of our institution!
Our medical assistants, athletic trainers, and research assistants are driven individuals that are aiming to continue their educations through nursing, PA, and medical school, as well as other graduate programs!
97% of our pre-health students that moved on from our practice were able to matriculate into their desired programs.